Local Guide: Best Pies in and Around Oak Lawn
Oak Lawn Toyota celebrates #NationalPieDay with our favorite pie shops near Oak Lawn, IL.
We did the difficult work and scoured the area for the best pies near Oak Lawn Toyota. So go ahead, satisfy your sweet tooth and grab a pie (or two) from every shop!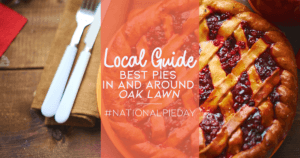 Iversen's Bakery is a well-established fixture of Blue Island, IL. While they're known for their delicious and seriously adorable smiley-faced cookies, you need to give their satisfying pies a taste. Every day, they serve Apple, Dutch Apple, Cherry, and Peach pies, plus a variety of specialty pies during the holidays. We recommend the Dutch Apple.
Orland Park Bakery has been serving the Chicagoland area for forty years with their delightfully sweet treats. We are all big fans of their donuts and cakes but we cannot leave without grabbing a French Silk Pie. We recommend ordering your pie ahead of time via their easy-to-use online ordering page. From Blueberry to Bourbon Pecan to Key Lime and everything in between, Orland Park Bakery has a variety of pies to help you celebrate #NationalPieDay and beyond.
Laine's Bake Shop is one of our favorite bakeries and it's quickly expanding into multiple locations. We are obsessed with their Chocolate Bourbon Cupcakes and Deep Dish Lemon Bars, but it is their Peach Cobbler that sends us over the edge and into a state of sugary nirvana. Laine's has a variety of scrumptious pies like Apple, Lemon Blueberry, and Sweet Potato (plus a bunch more), and the best part–you can order them in a range of different sizes so sneak a jar of Cherry Pie for yourself and a Half Sheet of Pecan for the family. *Laine's recommends placing specialty orders 48 hours in advance*
Weber's Bakery is a family-owned shop that has been around since 1930. Most fans of Weber's wait in line for their infamous Banana Split Torte–a decadent banana split in cake form and it's phenomenal! Celebrating #NationalPieDay has us craving some other items on Weber's menu like the seasonal Key Lime Pie which unfortunately won't make its first appearance until about May. In the meantime, you can dig into a Blueberry or Strawberry Pie and we promise neither will disappoint!
We LOVE this simply sweet bakery because they've perfected the "100% nut-free" facility while mastering delicious treats without that allergen and others. Speaking from personal experience, I (Christina) have a niece, Pearl, who is severely allergic to the Top 8. When we celebrate birthdays or have get-togethers with our extended family, we do everything we can to provide a safe food environment for Pearl but even when we aim for perfection in our protection, we can fail. One way to fail is by bringing in outside food that hasn't been properly vetted. Thankfully, we don't have to worry when we bring in a cake or cupcake or cookies by Simply Sweet Creations because we know they take great care and pride in their products. Additionally, their concoctions are not only delectable, but they're beautiful–peruse their social and try not to swoon. For #NationalPieDay, Simply Sweet is serving up adorable mini Chocolate Silk Pies through Saturday and again on Valentine's Day. Trust me, just because they're allergy-friendly, doesn't mean they're not delicious–they are!
Consider this an Honorable Mention. Don't knock it but we LOVE a good ole' fashioned Banana Cream Pie from Bakers Square because it's refreshing custard cream yumminess leaves us wanting that extra slice. And of course, gluttony takes on a whole new level in the form of the Chocolate Peanut Butter Cup Pie which pairs the saccharine goodness of French Silk with peanut butter cups and as the kids say, "It's to die for!"