Time is Running Out: New Illinois Trade-In Law Takes Effect in 2020
Don't get taxed twice! Trade-in your vehicle today before the NEW Illinois Trade-In Law goes into effect on January 1, 2020.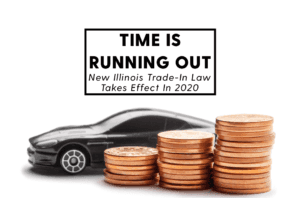 A few months ago I informed you that a new law will spring into action on January 1, effecting car buyers in 2020 and beyond. Maybe when I originally told you the date 'January 1, 2020,' it seemed far away, but guess what?! That date is rapidly approaching! The first of the year is just around the corner and Illinois' new trade-in law goes into effect at midnight New Years' day.
Currently, Illinois doesn't collect taxes on your vehicle's trade-in value, which in practice acts as credit towards a new vehicle purchase. Today, sales tax only applies to the difference between the trade-in value and the new vehicle's purchase price. Source: Illinois Policy 
But that will all change once Senate Bill 690 goes into effect. This change will impose a 6.25% trade-in tax on vehicles in Illinois beginning January 1, 2020. The new tax will affect trade-in vehicles that are worth more than $10,000. That means it could cost at least $625 extra to trade in your vehicle, not including the local sales tax that many regions add on top of the state's 6.25% sales tax rate.  Basically, friends, you're getting double-taxed. Once on the original purchase and once on the trade-in. Source: WSIL-TV
You might be thinking, "No problem, Christina, I'll just trade in my car across state lines and purchase a new one there." Unfortunately, you're paying taxes based on where you reside so you can't hide from it.
Well, now what?!  Take advantage of 2019 before it runs out!! We recommend trading in your vehicle today to avoid those pesky extra state fees before the new law takes effect.
Questions about the new trade-in tax law? Message us on Facebook or Instagram or you can chat with one of our knowledgable associates at oaklawntoyota.com… OR you can call us at 708-435-2205.