TRD Lineup Adds Camry and Avalon for 2020
Toyota injects its TRD racing spirit into two of its sedans with the 2020 Camry TRD and 2020 Avalon TRD models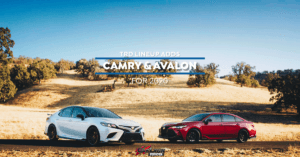 Fans of Toyota's TRD (Toyota Racing Development) brand excitedly embraced the news that Toyota is adding the much-lauded "TRD" badge to the Camry and Avalon on 2020 models. Joining the Camry lineup (which includes 11 grades: L, LE, XLE, XLE V6, XSE, XSE V6, SE, SE Nightshade, Hybrid LE, Hybrid SE, Hybrid XLE) is the Camry TRD. And just like the Camry, the Avalon is expanding its existing lineup which includes 7 Avalon models– XLE, XLE Hybrid, XSE, Hybrid XSE, Touring, Limited, and Hybrid Limited–and now, the Avalon TRD.
Expect a lot more power under the hood with the TRD editions of each sedan. Both are powered by Toyota's 301 horsepower DOHC 3.5-liter V6 and 8-speed automatic transmission with sport mode and paddle shifters. Both vehicles were fitted with unique coil springs that lower each vehicle by .6 inches. Handling and steering have been finely tuned thanks to new shock absorbers and lighter 19 x 8.5-inch matte black alloy wheels. The front brakes are larger on both models with 12.9-inch diameter rotors and dual-piston calipers to provide more direct feedback, matching the sporty dynamics of the vehicles.
Like other Toyota TRD models, the Camry and Avalon will have special red-stitching & red-glow accents, plus embossed "TRD" branding throughout the interior of the vehicles' cabins.
The 2020 Camry TRD and 2020 Avalon TRD are wildly fun to drive and offer thrill-seekers something superbly more exciting to look at than your average Camry and Avalon models.
2020 Toyota Avalon TRD Colors
Wind Chill Pearl
Celestial Silver Metallic
Midnight Black Metallic
Supersonic Red
2020 Toyota Camry TRD Colors
Wind Chill Pearl with Two-Tone Midnight Black Metallic Roof and Rear Spoiler
Supersonic Red with Two-Tone Midnight Black Metallic Roof and Rear Spoiler
Celestial Silver Metallic with Two-Tone Midnight Black Metallic Roof and Rear Spoiler
Midnight Black Metallic