We're Here for You: A Message from Ronnie Colosimo Regarding Illinois' Stay at Home Order
We're Here for You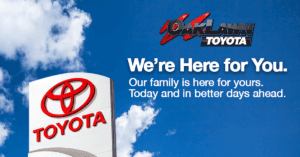 A Message from Ronnie Colosimo, our President & CEO, Regarding Illinois' "Stay at Home" Order
The Oak Lawn Toyota employees and customers' health and well-being are on my mind as we deal with COVID-19.  I want to keep you updated and informed as we go through this ever-changing situation together as a team.  
Knowledge is a powerful remedy during uncertain times.  Oak Lawn Toyota's best interest is to keep everyone healthy while providing automotive services to the public through this uncertainty that we're feeling. 
   

We have been deemed by the Governor as an

Essential Service

.  We will be open during the "Stay at Home" Order.

   

We have a smaller staff working during business hours.  Our staff's temperatures are being monitored when they enter the dealership to make sure they're healthy. 

   

We have shortened our sales hours down to 10:00AM to 6:00PM during this period and service hours down to 7:00AM to 6:00PM.

   

The dealership facilities will undergo cleanings with bleach throughout the day while we're open.

   

There will be a professional deep cleaning nightly.

   

We will offer pickup and delivery options for both service and sales customers.

   

Service also offers an overnight dropbox.

   

Each vehicle in both service and sales will be wiped down with a disinfectant.

   

We will meet you at your home or office for a test drive.

   

We've temporarily instructed our team to welcome our guests with a friendly greeting but refrain from handshakes.
I urge you to stay in contact with us during these trying times. I have been in business in Oak Lawn for over 49 years, as a dealer you can count on.  Please feel free to reach out to us with any questions in a manner that comforts you best.
Thank you for your business and trust in Oak Lawn Toyota.
Ronnie Colosimo
President & CEO
Oak Lawn Toyota